Improve Your Cooking Skills
Unleash your inner chef with easy-to-follow knife skill lessons
Limited time offer! Enjoy 20% Off NOW.
By continuing, you agree to the Terms of Service and acknowledge our Privacy Policy
Do you get frustrated with prepping food?
01
Do you want to learn new and creative knife cuts?
02
Get confident with your own knives with our online cooking class. A great introduction to knife skills, Chef John's MasterClass Lite will set you up to use your own knives more effectively at home. Get ready to learn the creative knife cuts that you have never seen!
You'll learn how to
Use knives efficiently and enjoyably
Knife skills for daily use and professional application
Apply 'skillful force' techniques to slice your ingredients without muscle aches
Cut meat for optimal tenderness and juiciness
Sharpen your knives properly with a whetstone
Maintain your knives for longevity
Limited time offer! Enjoy 20% Off NOW.
By continuing, you agree to the Terms of Service and acknowledge our Privacy Policy
Loved and trusted by 7 million fans
MASTER techniques with easy-to-learn lessons

2:59
Introduction & How To Keep Your Knife Sharp & Knife Safety

1:45
How to Use a Chinese Chef's Knife

0:44
Slice Ginger (diamond shape)

2:01
Slice Beef for Tender & Juicy Stir-Fry




3:59
Carving Cut: Squid and Slinky Cucumber

2:22
Carrot Flowers & Shiitake Hanagiri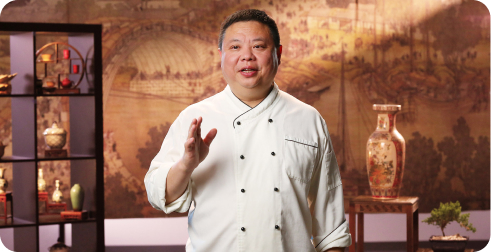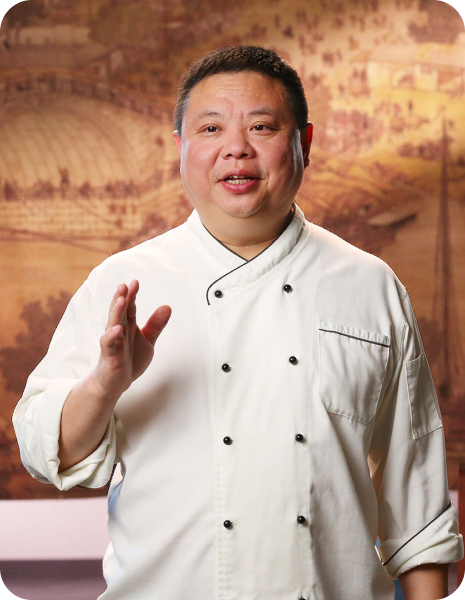 Taught By the World's Master of Chinese Cuisine Chef John
Chef John started his career in a five-star Shanghai hotel in China in the 1980s. In the decades since, he has worked with master chefs and honed his craft to create Michelin Star-quality food.

Chef John came to the United States in 2009 to compete in the second NTD International Chinese culinary competition, where he won the Huaiyang Cuisine Gold Award.

In 2010, his restaurant received a "Don't Miss" recommendation from the New York Times.

Chef John believes that food is a gift. It sustains us in moments of joy and sorrow. It can bring us back to moments from childhood, or to celebrations with friends and family. The sight, smell, and taste of a good meal bring us alive at every age.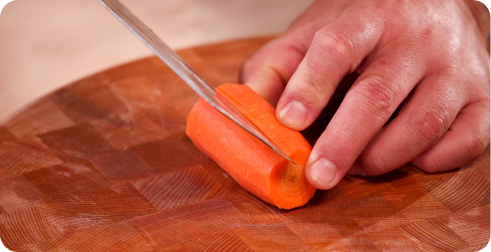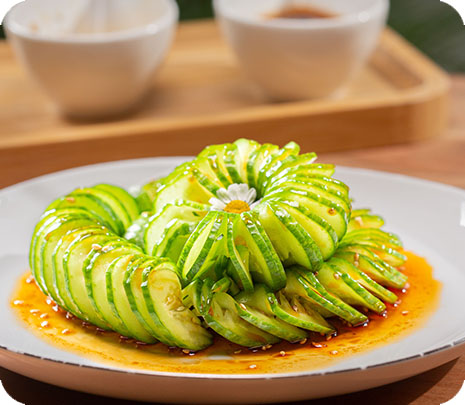 LEARN creative knife skills you've never seen
Chinese traditional dishes go back thousands of years, endowed with an incredible wealth of creativity. With over 35 years of experience, Chef John will share all his culinary "secrets" to take your cooking skills to a professional level. Chef John's MasterClass covers all Chinese cooking basics, knife skills is the first step into the journey.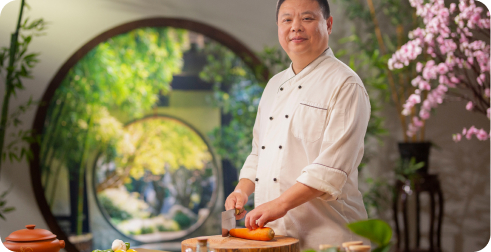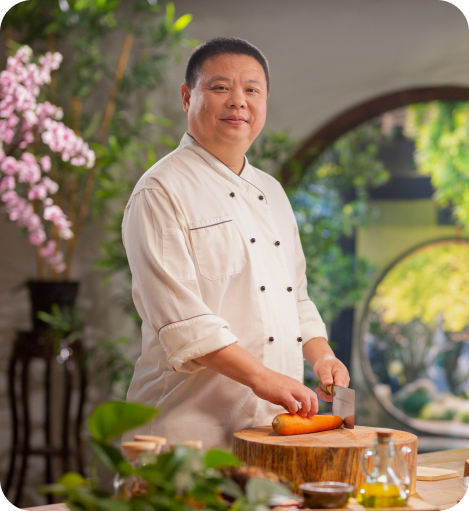 Gain Exclusive Membership to Chef John's Student-Only Facebook Group
You'll become a member of Chef John's exclusive Facebook group for students of the course. You'll be able to ask questions after each lesson or seek assistance when struggling with new cooking techniques. Chef John and team will be happy to answer your questions and provide any assistance that you may need during your culinary journey. You'll make friends with other like-minded members who will keep you motivated and on-track until you become a master of Chinese cuisine.
FB Group Operation: Sep 10th, 2022 - Sep 10th, 2023
Improve your Cooking Skills TODAY
Testimonials
Exceeded my expectations!
"Really brilliant! I love the visuals in this class, the chef has taken time to create a fascinating visual environment and everything speaks to clarity and precision, all explained in a clear and simple way. The lessons are short and very easy to follow. There are many techniques and new skills that you'll have learned by the end. Highly recommended!"
---
Your cooking videos should be preserved somewhere in some library of the world's greatest videos of such things and made for compulsory watching in our early education maybe before the age of 8.
---
The most incredible potato knife skills that no one knew could ever be. The very definition of mastery....I am going for that thinly-sliced FOR SURE!!! Thank you for inspiring me to be more....Tasty!!!!
---
Chef John, your teachers must have been masters. Your knife skills are incredible and your cooking is a work of art.
---
That knife skill on the potatoes is the best one I have seen yet, and believe me I watch cooking recipes constantly and that composure… WOW. I really dig this chef's vibe.. I don't even know what else to say. My mind is blown by this delicacy.
---
I find it amazing that Chinese chefs use basically one knife to do everything. I myself own maybe 30 knives, mostly German and Japanese. Just one Chinese knife that I use for chopping chicken. You have great knife skills. Particularly when you julienne, it's always consistent.
---
Great to learn the finer points of knife skills and the in-depth explanations, which most videos and recipes don't teach.
---
Living in Asia, I can tell you that Chef John's knife skills, though perhaps not unique only to him, are definitely in my top 1% of Chinese chefs I've ever seen.
---
I just bought a nice Chinese cleaver last week. I've already cut my finger once with it so it's great to see a focus on knife skills in your videos! The recipes are great, but the techniques are even more helpful!
---
Have a question?
1. Where do I take the class? When do I start?
Since this is an online course, videos are pre-recorded – not live broadcasts. We use pre-recorded videos to ensure that the course content is presented with the highest quality at every moment of instruction.

This class is available now, so you can watch it on TasteLife.tv through your mobile phone, tablet, or computer whenever and wherever fits your schedule.
2. Can I ask the Chef John questions after purchasing the class?
Sure you can! After purchasing the class, you will receive a welcome email with the exclusive Facebook group link. You are welcome to join the private group to interact with Chef John and classmates worldwide.
3. How long can I watch the course? How many times have you watched it?
You can view the course content as many times as you like, with no expiration date.
Improve your Cooking Skills TODAY